Joe B: 2018 Buffalo Bills final roster analysis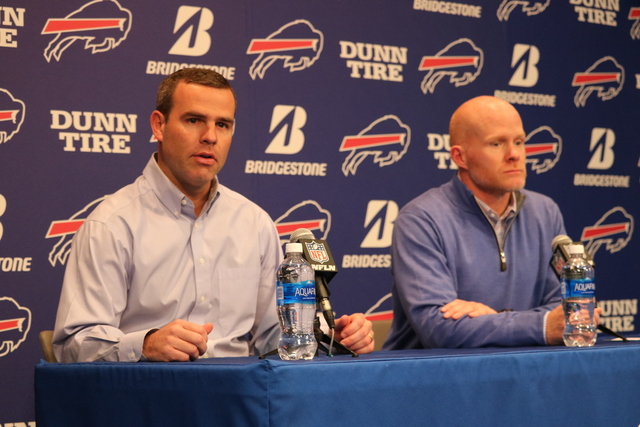 (WKBW) - The Buffalo Bills, at least for the time being, have finalized their roster for the 2018 regular season. Following the preseason, the Bills made the necessary amount of moves to get to the new roster limit of 53 players. The Bills even took it one step further, and got down to 52 players.
It's also important to remember that the active roster today likely won't be the same by tomorrow, because the NFL will go through the most significant waiver claim process of the season on Sunday. Past that, those players that go unclaimed will become free agents and can negotiate with any team, which makes it likely that by the time the Bills practice on Wednesday they'll have a new face or two.
So, for now, who made it on to the roster? The full outlook, along with the analysis of each position and the cuts and keeps that the Bills made:
Quarterback (2)
Nathan Peterman, Josh Allen
- At the end of cutdown day, the Bills have two quarterbacks, which means the showcase of AJ McCarron in Chicago worked to perfection for GM Brandon Beane and his team. The Bills sent McCarron to the Oakland Raiders and will head into the season with second-year quarterback Nathan Peterman, and first-round rookie Josh Allen. Why did the Bills move on from McCarron? I've got my full analysis on that, as well.
Cuts: None
Running Back (5)
LeSean McCoy, Chris Ivory, Marcus Murphy, Taiwan Jones, Patrick DiMarco
- The running back group crystallized through the first three preseason games, and it led to an uneventful Saturday of cuts. Marcus Murphy passed by Travaris Cadet long ago, and Taiwan Jones hangs on as a special teams asset.
Cuts: Travaris Cadet, Keith Ford, Sam Rogers
Wide Receiver (6)
Kelvin Benjamin, Zay Jones, Jeremy Kerley, Andre Holmes, Ray-Ray McCloud, Robert Foster
- We've found our first surprise of the roster, as the Bills parted ways with Corey Coleman -- the player they traded for in early August to try and bolster the speed of the group. Instead, what they got -- at least according to Mary Kay Cabot of Cleveland.com -- was a player who had an attitude that the Bills didn't particularly care for in his time in Buffalo. Equally as surprising the Bills held on to Robert Foster, an undrafted rookie that made a push late in the preseason after an up-and-down training camp. Should the Bills make another move at wide receiver over the weekend, Foster could be the odd man out. Wide receiver is another 'stay tuned,' position. As for the practice squad, a source told me that the Bills intend to bring back undrafted rookie Cam Phillips if he clears the waiver wire.
Cuts: Corey Coleman, Rod Streater, Cam Phillips, Brandon Reilly, Kaelin Clay, Malachi Dupre, Austin Proehl
Tight End (4)
Charles Clay, Jason Croom, Khari Lee, Logan Thomas
- From what the tight end depth chart was in 2017, the Bills almost wholly turned it upside down after an enlightening summer. The biggest mover of the group is former undrafted wide receiver Jason Croom, who put together the type of summer reminiscent of Eddie Yarbrough circa 2017. Croom has a chance to not only be on the team but to be a regular contributor every week. Khari Lee stays on because of his skills in blocking, and because he showed an ability to make plays down the field in the preseason. The final tight end spot came down to Nick O'Leary and Logan Thomas. Thomas won out with his improved blocking ability and more athleticism than O'Leary.
Cuts: Nick O'Leary, Keith Towbridge
Offensive Tackle (4)
Dion Dawkins, Jordan Mills, Marshall Newhouse, Conor McDermott
- The top two weren't in question, as both Dion Dawkins and Jordan Mills are the established starters. As for the third spot, both Marshall Newhouse and De'Ondre Wesley had to be sweating out the final cutdown day a bit. The Bills hang on to Newhouse because of his veteran experience. In somewhat of a surprise, the Bills kept second-year player Conor McDermott as someone to groom for a second straight year. Offensive line coach Juan Castillo has long been a fan of the hard-working McDermott, and he sticks for the time being thanks in part to that.
Cuts: De'Ondre Wesley, Mo Porter
Interior Offensive Line (5)
Ryan Groy, John Miller, Vlad Ducasse, Russell Bodine, Wyatt Teller
- The only question with the interior group revolved around Ike Boettger, and if he had done enough to make the roster outright. His release means the Bills will go with the five that we had been expecting. I think Boettger will be a strong candidate for the Bills to try and bring back to the practice squad. Even though he wasn't in consideration for the 53-man roster, a source told me that the Bills intend to bring Adam Redmond back on the practice squad if he passes through waivers.
Cuts: Ike Boettger, Adam Redmond, Gerhard de Beer, Josh James
Defensive End (4)
Jerry Hughes, Trent Murphy, Shaq Lawson, Eddie Yarbrough
- The top four of the pass rushers were well-established, but it was just a matter of if the Bills would keep a fifth defensive end due to the injury to Trent Murphy. The Bills liked what they saw from Mike Love, but a poor showing in the preseason finale likely sealed his fate.
Cuts: Mike Love, Terence Fede, Mat Boesen, Ryan Russell
Defensive Tackle (4)
Kyle Williams, Star Lotulelei, Harrison Phillips, Adolphus Washington
- Similar to defensive end, the injury to Kyle Williams put the possibility of keeping a fifth defensive tackle on the radar. At the end of the day, the Bills opted to go with just the four players that were earmarked for the team all along. The Bills could use their empty roster spot on the defensive tackle position given the injury to Williams.
Cuts: Tyrunn Walker, Albert Havili, Rickey Hatley
Linebacker (6)
Tremaine Edmunds, Matt Milano, Lorenzo Alexander, Deon Lacey, Ramon Humber, Julian Stanford
- With the news early in the day that the Bills released former sixth-round pick Tanner Vallejo, that wrapped up the mystery behind the linebacker group. Julian Stanford, a better special teams player, was kept over Vallejo even though the former is dealing with a nose injury. Vallejo has practice squad eligibility remaining, so we'll see if they reach out on Sunday.
Cuts: Tanner Vallejo, Xavier Woodson-Luster, Corey Thompson
Cornerback (5)
Tre'Davious White, Vontae Davis, Taron Johnson, Phillip Gaines, Lafayette Pitts
- The cornerback position had one of the tightest races for a final roster spot, and that ultimately went to Lafayette Pitts over Breon Borders. So, why Pitts? Well, it all came down to special teams. Pitts is on several of the top special teams units for the Bills, whereas Borders only mixed in with the second group. While Borders might be a better defensive player -- or at least showed to be this summer -- Pitts will fill a vital role for the Bills early on in the season. Cornerback could be another one of the positions that the Bills look to add to over the next few days.
Cuts: Breon Borders, Levi Wallace, Ryan Carter
Safety (4)
Jordan Poyer, Micah Hyde, Rafael Bush, Siran Neal
- Considering where the Bills had Dean Marlowe playing all summer, this is a minor surprise only to keep four safeties. However, Marlowe did miss a tackle that went for a long run against the Bears, and Siran Neal showed some of that athleticism that made the Bills draft him in the fifth round. GM Brandon Beane did say after the draft that the goal is to keep most, if not all of the players they selected on the roster, and Neal falls under that category here.
Cuts: Dean Marlowe, Kelcie McCray
Special Teams (3)
Stephen Hauschka, Colton Schmidt, Reid Ferguson
- In the battle of the punters, the Bills ultimately decided to go with Colton Schmidt, who outperformed Jon Ryan in the final preseason game of the year.
Cuts: Jon Ryan