BUFFALO, NY (WKBW) — Students at Enterprise Charter School are getting their summer break extended.
Enterprise Charter was to begin the new school year Monday, August 30, however, due to recent changes in COVID-19 school guidance, Enterprise is delaying the start of school until Tuesday, September 7.
A letter went out to Enterprise Charter School families saying "given the sudden and significant change to policy" they are unable to make needed changes in time for Monday's opening.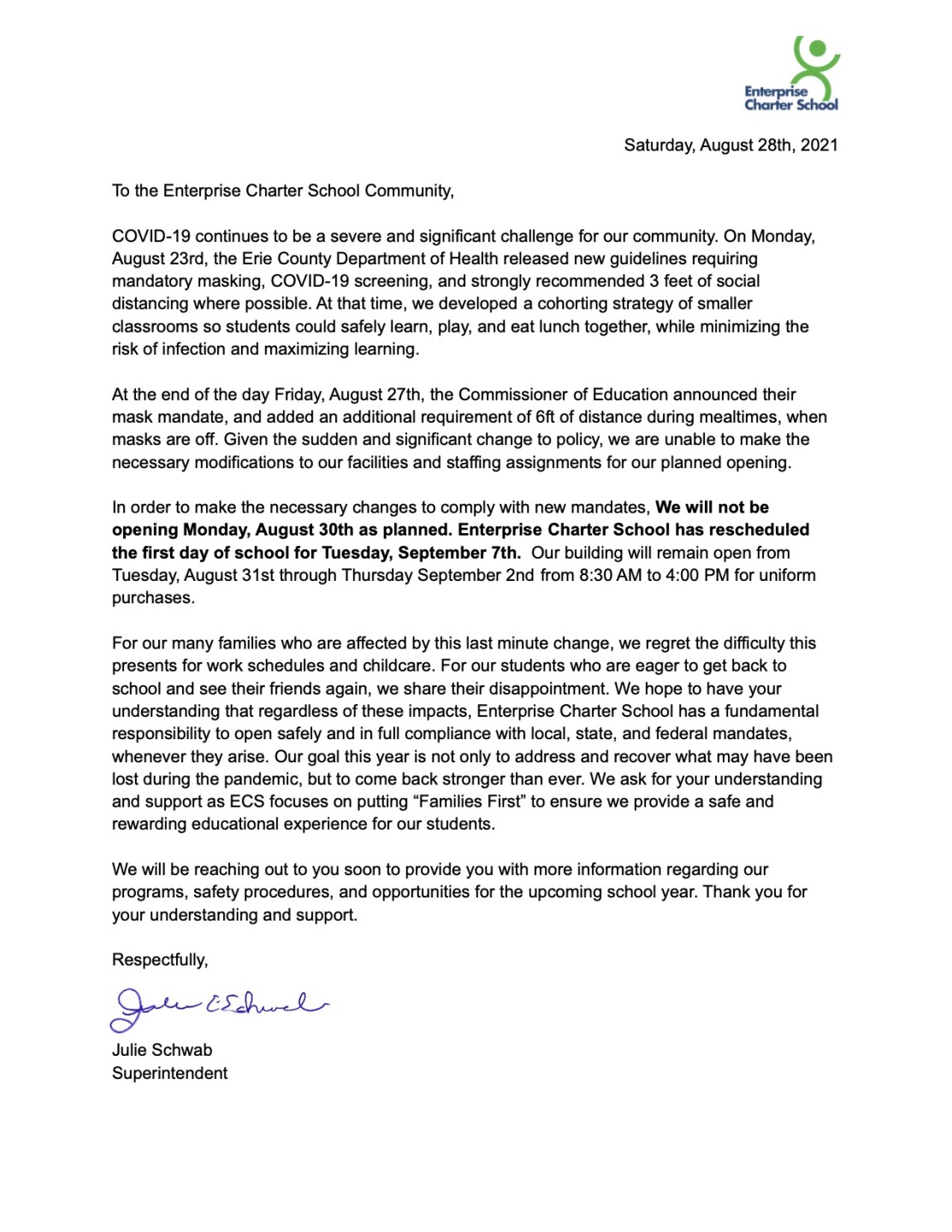 The school says it needs more time to make modifications in the school facilities in order to get the latest guidance on recommended social distancing for meals.
Late last Friday, the New York State Department of Education announced along with a mask mandate for schools, an additional requirement of six feet of distance during mealtimes when masks are off.
"Which makes it near impossible for us without planning that we had to implement that as of Monday," explained Thomas Ess, board chair. "It's kind of like snowstorm for a week in the middle of the summer that you're not expecting."
Michael Radosta, director of innovation and technology, is working to reconfigure the cafeteria.
"Cafeteria only has so much space, so we had to look at our space — see how many kids we could fit at a table," said Radosta.
When students come into the Enterprise cafeteria for their meals, with their masks off, to eat they will now be separated by six of distance.
"Are going to have to use other rooms for eating too?" Buckley asked.
"We have prepared a classroom as an overflow space, so once we get the students in here and we look at our numbers and we look at movement through the room and it looks difficult — we are prepared to use another room if necessary," Radosta responded.
The school is also hiring two to three more staffers to help handle multiple lunch periods.
School classrooms are ready for the return of students. Children will be spaced three feet apart.
Ess says they are sorry for any disruption the delay in opening may have had on families, but felt it was necessary for students to return safely.
"By virtue of their age alone we know they are not vaccinated, so that presents a significant concern and why we aired on the side of caution," explained Ess.
Ess tells me he did not hear from any parents who are upset with the delay.
"We actually found the opposite — that we got some words of encouragement from families that said thank you for making sure that we're doing things safely and taking the time to do that," declared Ess.
But Enterprise will have the school building open Tuesday, August 31 through Thursday, September 2 from 8:30 a.m to 4 p.m. for school uniform purchases.