(WKBW) — The end is nigh. By the time Sunday rolls around, the Buffalo Bills will have a fresh new draft class that they hope will buoy their previous two drafts and help the Bills get back to the postseason -- only this time with the roster this regime has built.
Heading into the start of the 2019 NFL Draft on Thursday, the Bills have ten selections and hold the ninth overall pick in the first round. While the ten picks are nice to have on paper, five of them are in the final three rounds -- when it becomes increasingly harder to not only find role players but even to find players that will make the team outright for consecutive years.
However, what can we expect from the Bills as their draft plan gets put into action?
22 thoughts about the Bills' potential draft strategy after listening to what the Bills have had to say, where the values of the draft are, and an unhealthy amount of time spent pondering it all:
1 - The realistic dream target on Day One
- With due respect to those that are hoping Quinnen Williams will be on the board past the top five, I don't want to be the bearer of bad news, but it's not looking promising. However, if we're sitting here, thinking about a realistic target for the Buffalo Bills that they could come away with on Thursday night, that name is Ed Oliver -- the three-technique defensive tackle from Houston. The Bills are without a starting-caliber player at the position on their roster, and at the NFL Owner's Meetings, head coach Sean McDermott called getting pressure from the interior of the defense to be "critical." That's where Oliver comes in, which would give McDermott and GM Brandon Beane their hell-raising interior pass rusher to go as close to a complete unit on defense as they've been since both gentlemen arrived in Buffalo. If they want to bring in Oliver as McDermott's pie-in-the-sky three-technique defensive tackle, the Bills are going to need a little bit of luck, and a little bit of aggressiveness.
2 - Swing picks that will help the Bills outside of the obvious
- Let's start with the luck part of it. Out of nowhere, the New York Jets (third overall) seem to be hot under the collar for Oliver -- with multiple respected and connected people out there having paired the two in their most recent mock drafts. Oliver just so happens to be one of the hottest names in the draft right now, and it also isn't any secret that the Jets want to move out of their current spot in the draft order. Why do they want to trade? It's simple. To secure their potential franchise quarterback in Sam Darnold, they gave up their second-round pick this year. For a rebuilding team that still needs more good, young starters, having only one selection through the first 67 is not ideal. The Oliver connection could be the Jets trying to drum up trade interest. Though, I think the real concern over Oliver coming off the board begins with Oakland (fourth overall). The Raiders are a complete unknown -- and the most recent report, mixed with sending their scouts home, has me flashing back to Jacksonville's pick of Blake Bortles and Chicago's pick of Mitchell Trubisky. In both cases, the two teams didn't have any strong links leading up to the draft. Both were thought to be punting at quarterback until the next draft. In reality, all they were doing was keeping their biggest secret of the quarterback they wanted to build their franchises around. Part of me wonders if we have been sleeping on the Raiders all along, to make a move for either Drew Lock or Dwayne Haskins at four. That would be great for the Bills because that slides both Oliver and the host of other players they'd consider at nine down at least one more spot. The ideal scenario for the Bills would be if, somehow, both Oliver and Kentucky edge rusher Josh Allen fall outside of the top five.
3 - Want Oliver? The Bills will likely need to move up
- Regarding the NFL Draft, you never want to discuss variables in absolutes -- so we'll resist the urge here. However, the odds that Oliver weaves his way down to ninth overall are becoming increasingly slim, seemingly with each passing hour before the draft. Think of all the teams that could use him after the Jets picks at third overall. The Raiders (4), Buccaneers (5), Giants (6), and Lions (8) could all greatly benefit from adding him to the roster. Then you mix in teams just outside the top ten that could be looking to move up for him, like the Bengals (11) or the Falcons (14), and it adds to the more significant point. If the Bills genuinely believe in him -- which I think that they do -- then they can't sit on their hands and hope he magically appears to them at ninth overall. They will need to get aggressive -- a trait that Brandon Beane has shown before in non-quarterback situations (see: Tremaine Edmunds, Kelvin Benjamin), and they can't wait very long to do it.
4 - What's the sweet spot for trade discussions to get serious?
- Assuming Ed Oliver makes it to fourth overall, I don't believe the Bills would want to sacrifice their what they need to to make it happen. Any hope of getting to fourth overall without sacrificing a legitimate asset either this year or next year doesn't make much sense from the tried and true draft value chart. The Bills would need to make up a difference of 450 points between picks (fourth overall is 1800, ninth overall is 1350). Conceivably, the only way to do so is by offering up 40th overall (500 points) and getting a fifth-round selection back from Oakland. They could also give up next year's first-round pick, which has a generally accepted value of the median of a second-round pick -- considering the acquiring team has to wait a year for the selection. Either way, the Bills are costing themselves a starter -- either this year or next year --, and while you can't rule out anything this time of year because of the inherent pressure that comes with the draft, I think that might be a bit too rich for a move up the board. I think the sweet spot begins at fifth overall (1700 points), but I'm not sure that gets done without the inclusion of the Bills' second-round pick, either. You could cobble together a group of mid-round picks starting with 74th overall, but what motivation would Tampa Bay have to complete that deal? The Giants at sixth overall aren't usually ones to trade down, which brings us to Jacksonville. If somehow, Oliver made it to seventh overall, Beane should be on the ready to unload his third-round selection and get back Jacksonville's fourth-round pick. A look at the potential deal:
Proposed trade up for Buffalo

(Using the NFL Trade Value Chart)

Team
Jacksonville
Buffalo
Top Pick Given
7th overall - 1500 points
9th overall - 1350 points
Secondary Pick Given
109th overall - 76 points
74th overall - 220 points
Total Points Given

1576 points

1570 points
Buffalo can offer a Day Two pick without moving more than two spaces, which I think would appeal to the Jaguars. It all depends on the availability of Oliver, though, which is the biggest unknown.
5 - The notion of trading up for anyone not named Ed Oliver
- If it's not for Oliver, I don't feel as strongly about the Bills moving up for any of the other names outside of Quinnen Williams -- who is likely to be long gone before seventh overall rolls around. You could make an argument for a select three or four names, but if there are that many names they like with the likelihood that Kyler Murray, Nick Bosa, Q. Williams, Oliver, Josh Allen, and maybe Devin White are all off the board, it won't make sense to move up. The power of math shows us that the Bills will get someone they like at ninth overall, without having to sacrifice an additional pick that could become a role player. The question is, who is on that shortlist?
6 - Help on the way for Josh Allen?
- If the Bills stand pat at ninth overall and miss out on Oliver, the current lean is for the Bills to give second-year quarterback Josh Allen a top-tier prospect to add to the offensive side of the ball. The Bills have invested heavily in their defense, and less so with the offense. I don't believe that wide receiver is a serious consideration at ninth overall, which brings us to offensive line and tight end. Along the offensive line, the Bills brought in Mitch Morse and a bunch of short-term signees, in which they hope two or three of those guys grabs a starting job and doesn't look back in 2019. It's a smart strategy if you don't have a solid offensive line, but that doesn't mean they should be finished adding to it. For a quarterback that likes to take his time in the pocket as Josh Allen does, giving him a player to enable becoming the pocket passer of their dreams is a worthy investment -- specifically at left tackle, where they don't presently have a starter that they are supremely confident in for the 2019 season. At tight end, having a three-down chess piece that can conceivably become a failsafe for Allen, is essential as well. Don't believe me? McDermott on tight ends, while speaking at the NFL Owner's Meetings: "At an early age, I feel like that I learned how important that tight end position is to a quarterback and a particular young quarterback. It becomes a security blanket."
7 - Three primary targets?
- At ninth overall, I'm taking a look at three names most heavily, with a fourth name being a wild card that I can't seem to shake out of the back of my head -- but we'll get to him later. It comes down to three players at those two positions I listed: Alabama's Jonah Williams, Iowa's TJ Hockenson, and Washington State's Andre Dillard. While Florida's Jawaan Taylor is a solid prospect in his own right, the one thing that he doesn't offer is the flexibility to move over to the left side of the line. Williams and Dillard offer that as their original positions, which is why I have them among that short list. Hockenson is also everything the Bills would look for in a tight end, presenting them with a versatile player that can contribute on both phases of the offense. However, if I had to guess today, my lean would be for Williams -- for a multitude of reasons. First, and most importantly, the guy can flat-out play. He is a monster run-blocker, and Williams is a proficient pass protector that had to hold the sanctity of the pocket a lot longer than some left tackles that hail from a spread offense. Second, he is a home run fit into the locker room as a potential burgeoning leader along the offensive line to pair with Morse. Williams is a consummate hard-worker by many accounts, does his self-scouting to improve his technique, and doesn't rest on his genetically-gifted laurels. And not only do they have a good feeling about who he is from a few meetings this offseason, but they have offensive coordinator Brian Daboll to vouch for how he is when NFL teams aren't watching -- which is of more importance once the bright lights of the draft fade. Williams would immediately become their starting left tackle and ticks every box that the Bills look for in players.
8 - Well, what if Jonah Williams is off the board?
- The scenario of Williams being off the board ahead of ninth overall could undoubtedly happen, considering he is considered by many to be the top player available at his position and there is an expected ambush of offensive line players flying off the board in the first 40-to-50 picks. Jacksonville at seven and Detroit eight both could opt to draft Williams, which would leave the Bills to choose from others. Under the premise that Oliver and J. Williams are both gone, what would the Bills do? Between Dillard and Hockenson, I can make a legitimate case for both. Those two are close in terms of impact and what they could bring to the team in 2019 and beyond. Hockenson offers them something they won't be able to find in the second or third round, as does Dillard. But this is where positional values need to enter the equation in terms of not only this year's draft but next year's as well.
9 - The case against taking a tight end in the first round
- Don't get me wrong. If the Bills were to take Hockenson, they'd be getting a potential immediate starting tight end to pair with Tyler Kroft in Daboll's hopeful multiple tight end attack. That part I won't debate. However, the two factors you must consider if you're the Bills -- especially if they have Hockenson and Dillard graded similarly, is how both positions look after the first round is done. At tight end, while you might not be able to get your hands on Alabama's Irv Smith, Jr. in the second round, there is a handful of tight ends in the third and fourth round that all have the potential to become starters down the line. That group includes San Diego State's Kahale Warring, Texas A&M's Jace Sternberger, San Jose State's Josh Oliver and Dawson Knox of Ole Miss among others. At left tackle, it falls off a cliff after Williams and Dillard. If there is value to be had later on at tight end, and less so at left tackle, that could be enough to break the tie if a tie exists.
10 - Don't discount the 2020 draft class as a significant factor
- Since I have next to no first-hand knowledge of the 2020 draft class just yet, I'll defer to someone who is invested in it and has a stake at knowing the prospects as well as anyone: Senior Bowl executive director Jim Nagy.
We're already about 75% finished with our board for the 2020 @seniorbowl and it's shaping up to be a lean OL class. Conversely, this current OL class is one of the best in recent years so smart teams will address OL first and circle-back on other deep positions like DL and TE. pic.twitter.com/rjP7Cn5EnC

— Jim Nagy (@JimNagy_SB) April 22, 2019
If the offensive line group isn't particularly strong in 2020, the left tackles in the 2019 class worsen by quite a bit after the top two, and there is an expected rush to select offensive linemen in this year's draft, that makes logical sense to take one early. And it could play into the decisions between Williams, Dillard, and Hockenson for the Bills at 9 as a result.
11 - The 9th overall wild card
- Now, back to that player that's sticking in the back of my mind for some reason. If the Bills are invested enough in Oliver to move up the draft order potentially, then should we be erasing the next best three-technique defensive tackle from our minds at nine? Enter Clemson's Christian Wilkins, who fits the prototypical profile of interior rushers that the Carolina Panthers have gone for in the past. Like Jonah Williams, teammates view him as a leader in the locker room which also helps his case with a McDermott and Beane-led organization. And like left tackle, while there are some talented prospects available in the first round, the depth isn't as strong as you might like, as it is for tight end for instance. I suppose where it differentiates between left tackle and defensive tackle is that there will be draft-worthy names available in the second, third, and fourth rounds at defensive tackle. The Bills will have the option to select players like Dre'Mont Jones of Ohio State, UCF's Trysten Hill, or Renell Wren of Arizona State among others -- so it isn't as barren as left tackle. Regardless, with the biggest hole on the roster existing at three-technique defensive tackle, you can't rule out Wilkins if the Bills can't get Oliver. However, as Beane has said all along, they won't be drafting for an immediate need. They will have options even after the draft in the form of released veteran players and some they can add to the roster via trade. However, it remains a big need. That's why I just can't shake Wilkins.
12 - What drafting a left tackle means for Dion Dawkins
- It means what you think it means -- that the Bills' former second-round selection will be getting to know a new position in the spring and summer. If the Bills elect to draft either Jonah Williams or Dillard, the logical move for the Bills would be to slide Dawkins inside to guard and see if you can salvage the second-round selection into something more than an average-to-slightly below average starter. The Bills signed Ty Nsekhe, intending to have him start in 2019, with the apparent spot being at right tackle in this scenario. For Dawkins, who many considered to be best suited to play guard in the NFL, this gives him the opportunity for a fresh start in the same building -- and at a position that does not have a single defined starter. Look at what the Bills have at guard. Their best option might be Spencer Long, but he struggled in 2018. Besides him, they have fringe starter Quinton Spain, career backup Jon Feliciano, up-and-down second-year player Wyatt Teller, the developmental project Ike Boettger, and soon-to-be likely cast-off Vladimir Ducasse. There is a starting job to be had there for Dawkins, and considering his bright moments over the last two years, I think he could thrive at one of those positions. If he does, the Bills solved two offensive line spots with one draft pick.
13 - Why not an edge rusher at 9?
- Operating under the premise that Josh Allen is likely off the board by the time the Bills make their selection at ninth overall, the next best guy is likely to be Florida State pass rusher Brian Burns -- a thinly built but hyper-athletic and fluid edge guy that has loads of potential. After Burns, no one else appears to be worth it at this point of the draft because of all the questions that arise with the next tier of prospects. However, the defensive end group is quite deep as you get into rounds two, three, and four, which would allow the Bills to wait on drafting one while being able to capitalize on the value at nine at a different position. I found the decision made by Montez Sweat of Mississippi State to decline his once-accepted invitation to attend the draft in person to be quite interesting. That decision, due to his medical concerns, insinuates that there could be a previously unforeseen drop coming -- so much so that you have to wonder if there's a chance he's on the board at 40th overall for the Bills. If not him, the Bills could have the opportunity to draft one of Clemson's Clelin Ferrell, Florida's Jachai Polite, TCU's LJ Collier, Lousian Tech's Jaylon Ferguson, Eastern Michigan's Maxx Crosby, or Iowa's Anthony Nelson among others in the second or third round. And if they don't get one? They still have three of their four rotation spots for 2019 settled on the roster already. Taking an edge rusher would be a forward-thinking selection as both Jerry Hughes and Shaq Lawson are due to become free agents in 2020, but that doesn't mean they should force the pick at the position if the value doesn't make sense. If Allen is unexpectedly on the board at nine though, this point could be moot. He could be too good to pass up in that scenario.
14 - What about trading down?
- The idea of trading down is always a popular one in theory. You move down a few spots and get to improve one of your Day Two selections, or better yet, you get to add one to your stable of picks. And who doesn't like another kick at the can to find a potential core franchise player? However, with this draft, in particular, the only way I think the Bills should move down the board is if they are getting a top 60 pick in return. Why? I'll refer you to an insightful passage from Albert Breer of Sports Illustrated, in one of his most recent columns.
Let's dive a bit deeper into this. For non-quarterbacks, you have Nick Bosa, Quinnen Williams, Ed Oliver, Josh Allen, Devin White, Devin Bush, TJ Hockenson, Jonah Williams, Andre Dillard, Jawaan Taylor, Christian Wilkins and maybe Brian Burns -- that's the top-tier before you can make an argument for just about anyone with a first-to-early-second-round grade to come off the board. So, if the Bills are taking themselves out of that tier, they better make it worth their time. And since they're already near the bottom of that top-tier in the order as it is, the potential ability to attain a top-60 selection and stay in that realm to draft one of those players likely isn't realistic. So, let's say they moved down to 14th overall in a trade with Atlanta. The draft value chart suggests that the jump would cost Atlanta their third-round and fourth-round selections. In doing so, however, that puts the Bills on the outside looking in on that top tier of players, and it also opens them up to get jumped by others further down the draft order that don't have the draft assets to make a move to get ahead of them at nine. With the example, if Atlanta wants to make 45th overall -- their second-round pick -- available in the trade, that's where I'd start to listen because that could dramatically improve the draft for the Bills. Or, if a team much later in the draft order offers up their first-round pick next year as the highlight of a pick package, that's probably an easy decision for Beane and company to move out of 9th overall. And if the Raiders want to get squirrely and send both 24 and 27 for 9, that's a nice consolation prize as well. However, it has to be a legitimate draft resource for them to move down in my mind. It's the same concept as trading up. The Bills likely don't want to sacrifice a potential starter at 40th overall to improve a few spots in this draft in particular. With trading down, if the Bills are putting themselves at the risk of sacrificing their draft's top player for a third-round-role-player-but-hope-he-turns-into-something-more, you're better off staying at nine and taking your guy. Trading down is always a fascinating concept in theory, but in the Bills' case, it might not make the most sense in 2019.
15 - The stars aligning for a second-round WR?
- Alright, enough of first-round pick theory. The Bills also have an opportunity to add an impact player with their second-round selection at 40th overall, and I believe that could be the perfect time to strike for one of the top wide receivers available in this class. Of all the wide receivers, the only one that I'm confident will go in the first round is Oklahoma's all Hollywood Brown. I'm not even sure if DK Metcalf of Ole Miss will get his name called on Thursday. He probably will, but there's at least a seed of doubt that says he could last into Friday. But, for the sake of what the Bills could be looking at, let's assume Metcalf is gone as well. Then, for the second round, the Bills have the eighth pick of the evening -- and there could be somewhere between four-to-six receivers remaining that have starting potential. That list includes AJ Brown of Ole Miss, Iowa State's Hakeem Butler, South Carolina's Deebo Samuel, Arizona State's N'Keal Harry, Georgia's Riley Ridley, and Parris Campbell of Ohio State. All those names have a bit of a different style, and it depends on what the Bills are looking to add to the group. And if it's the low end, with only four of that group I listed still available, the odds that four receivers get selected in the first seven picks are not that good. It's not impossible, but also not probable. So, if the Bills go along the offensive or defensive line in the first round, then there will be a fantastic opportunity to give Josh Allen an additional player -- with potential -- to throw to.
16 - Would the Bills consider moving up from 40?
- It all depends on cost, but I won't rule out a move up the board for Beane considering his history. Let's say, for example, that the Bills wanted to get back into the first round and chose the Los Angeles Rams at 31 as the potential draft slot. On the trade value chart, the 31st pick outweighs the 40th pick by 100 points. To bridge that gap, the Bills would need to unload the first of their fourth-round selections and one of their fifth-round picks to make the math work. And for a team like the Rams who are without a second-round pick, that could be enough to make it worth it to them. Or, if that's not enough, the Bills could even choose to swap 74th overall for one of the Rams late third-round picks (either 94 or 99) to make it fair on the trade value chart.
Proposed trade up for Buffalo

(Using the NFL Trade Value Chart)

Team
Los Angeles Rams
Buffalo
First Pick Given
31st overall - 600 points
40th overall - 500 points
Secondary Pick Given
99th overall - 104 points
74th overall - 220 points
Total

704 points

720 points
As long as the Bills hold a spot in the third round, I think they would make the move up the board -- especially considering that first-round selection gives them the option for a fifth year on the rookie contract. Plus, there are long odds that all ten draft picks make the Bills roster outright, which could facilitate some movement in the first three rounds. They have the draft capital to move up the board, so really, all they need is the player they feel strongly enough about to bring on the move. If a player remains available and stands out above the rest to Beane, and it fills a need, he is not the type to hesitate to deal. The Bills may pick early on Thursday, but knowing Beane, I would encourage fans to sit tight through the end of the first round.
17 - Some other names to consider at 40th overall
- Of course, it depends on what the Bills do with their initial selection, but you can make an educated guess as to the pool of players they'll be choosing from at 40. Outside of the aforementioned wide receiver group that could be there, the names circle a handful of positions. If Irv Smith, Jr. is there, tight end is an option. At defensive end, Ferrell, Ferguson, and Collier all fit their profile. If they want to strike for a three-technique defensive tackle, perhaps Ohio State's Dre'Mont Jones or Trysten Hill of Central Florida -- though I'm less convinced of them going for that spot in the second round. But if they decided on a non-offensive lineman in the first round, I'd keep an eye out for Alabama State's Tytus Howard, who has the potential to be a long-term answer at left tackle considering how relatively new he is to the position and the skills he's already shown. Because of that, thought, there is a chance Howard goes in the first round, which would leave the Bills to pick from the likes of Kansas State's Dalton Risner, Washington's Kaleb McGary, or Greg Little of Ole Miss at offensive tackle -- all of which are right tackles by trade. The only other position I wouldn't rule out at 40 is cornerback, which probably brings about a few eye rolls from fans.
18 - A cornerback on Day Two?
- The Bills have a top guy in Tre'Davious White, they saw some strides from Levi Wallace in his rookie season, they signed both EJ Gaines and Kevin Johnson, so why would they take a cornerback in either the second or third round? It's because the position remains unsettled in their eyes, and they wouldn't have gone out and signed two experienced veterans to short-term deals if they thought Wallace showed enough to be their starter. And the fact that they were short-term deals for Gaines and Johnson adds to this as well, because if Wallace isn't the full-time guy, they still lack a long-term answer. So, in the second round, if former high school wrestler and Temple cornerback Rock Ya-Sin happens to be available, McDermott and Beane might be tempted to select him. The same goes for Georgia's Deandre Baker -- though I think the odds favor him being off the board by 40 -- or more realistically, Justin Layne of Michigan State. All three players fit the body profile they look for and show the want-to in making an impact as a tackler. In the third round, Vanderbilt's Joejuan Williams would also be a temptation.
19 - But taking a DL could be too good to pass up at 74
- Cornerback would be tempting in the third round, but this could be a sweet spot to take a defensive lineman with the potential to develop. Two players, in particular, that could be a target for the Bills are Eastern Michigan's Maxx Crosby and Arizona State's Renell Wren. Crosby has only been playing defensive end for five seasons, which has his arrow pointing up for growth in the future if handled correctly. He's got the height, the length, and the athleticism the Bills like out of their defensive ends. Just take a look at his athletic profile based on percentiles: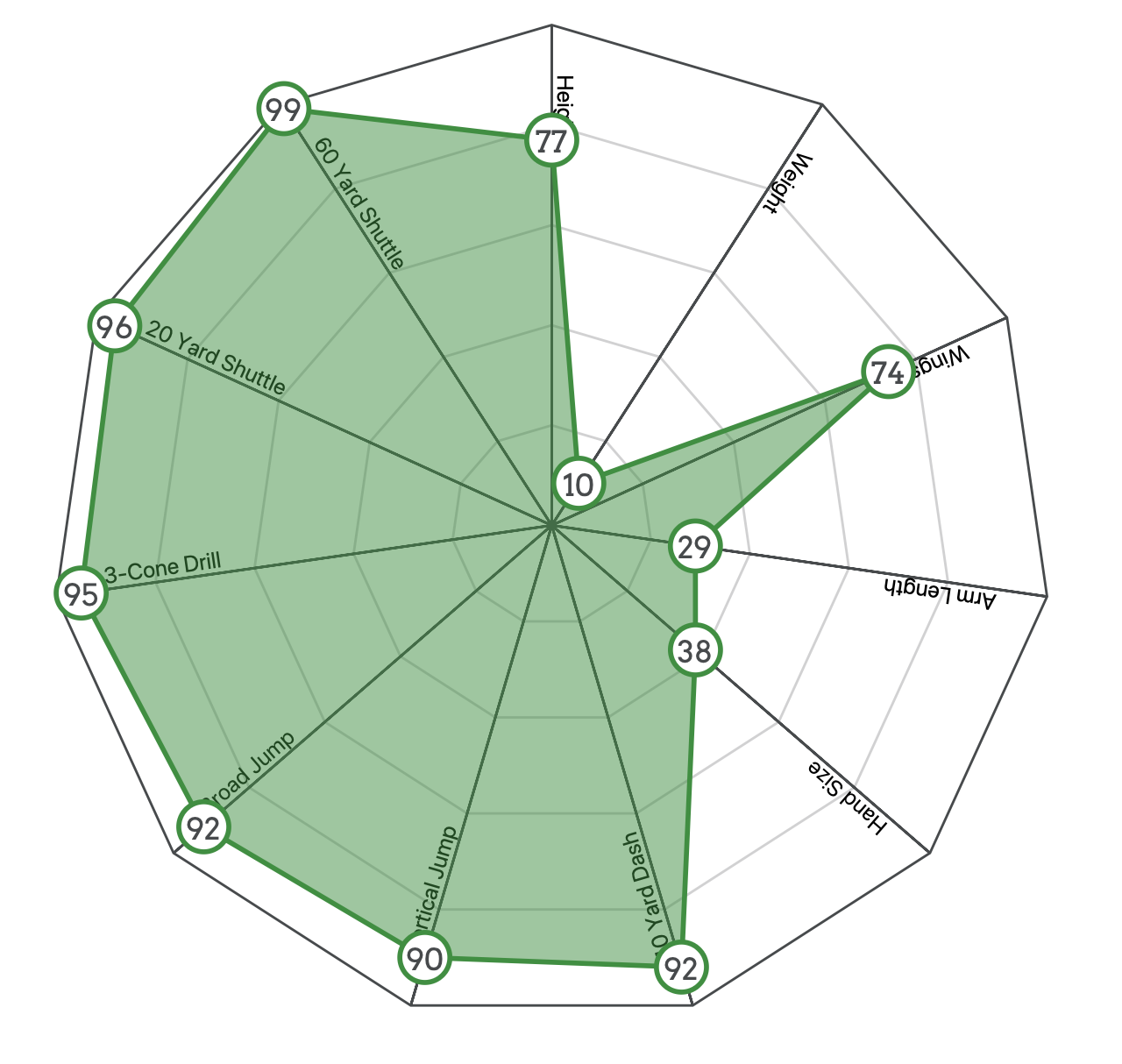 According to Mockdraftable.com, his athletic profile makes him a 74.9% match to Joey Bosa. Do with that what you will. Plus, his underdog type of story is one that Buffalo fans will surely appreciate. If you have a few minutes before the draft, I'd highly encourage this read from The Athletic's Chris Burke, on Crosby's one-day tryout at Eastern Michigan that paved the road for him to get drafted in 2019. As for Wren, he is a confusing player. He has great size and shows enormous potential some games, all the while disappearing entirely in others. He often played nose tackle for Arizona State, even though his best fit in the NFL might be a three-technique defensive tackle. His lack of production in college brings additional questions, but some team that likes traits (the Bills are one of them) will believe they can unearth the potential. Outside of defensive line, this could also be a time to strike for a tight end, with Sternberger, Knox, Oliver, or Warring coming to mind. But really, it all opens up at this point in the draft. Running back becomes an option, as does offensive guard, and wide receiver will remain an option if not addressed in the second round. The third and fourth rounds of the 2019 NFL Draft are strong, and the Bills should have an opportunity to bring in two-to-three role players with potential with those selections.
20 - Does TJ Yeldon impact the Bills' draft plans at running back?
- I don't think that he does. While still relatively young, Yeldon gives the Bills the flexibility to not feel like they have to come away from the draft with a running back. If they do, I don't think they'd have a problem carrying four running backs, but one of them would need to contribute on special teams in some capacity. The Bills are seeing if Yeldon can add to the competition, and the second year on his deal gives them the flexibility to have something worthwhile on the roster at running back when the contracts of both LeSean McCoy and Frank Gore expire following the 2019 season.
21 - Does Yeldon make LeSean McCoy expendable?
- Again, I don't believe that he does. The Bills have quickly shut down any notion that McCoy isn't a part of their plans, starting from the day after the 2018 season ended. Usually, if the team has been inclined to move on from someone, you could read through it. With McCoy, it's felt more definitive than not, which leads me to believe he'll be around in 2019. If they deceived me, good on them, but they never made it feel like a rouse to move McCoy ahead of the draft. I don't think Yeldon changes that.
22 - The Bills should discuss trading for Gerald McCoy
- I mentioned this as part of my fifth mock draft, but if the Bills get shut out from drafting a three-technique defensive tackle early in the 2019 NFL Draft, I think they should look to make a deal with Tampa Bay either late Friday or early Saturday to bring in Gerald McCoy. The Bills do not have a starting caliber player at the position on their roster, and although McCoy is 31 years old, if he can play at the level of Kyle Williams in his final season, or slightly better, then the trade is worth it for keeping the same level of defense for the upcoming season. The Bills have the cap room, they have a late draft pick or two that they can spare, and they have the opening on the roster for him. Plus, what McCoy would add as a leader to the locker room could be what pushes this over the edge for McDermott and Beane. McCoy's contract goes through the next three seasons, but with no dead money potential, the Bills could quickly get out of it after the 2019 season if they wanted to. I think all of that is well-worth a fifth-round pick if they miss out on the position in the first two rounds.
--
There you have it, close to my entire Bills draft brain unpacked on what could happen in the first two days of the draft. My final mock draft will be posted on Thursday afternoon.