INDIANAPOLIS — When educators lose their licenses due to misconduct, that doesn't necessarily mean they can no longer work with children in Indiana.
Todd Boldry, a teacher and basketball coach in Knox County schools, was arrested and charged for child seduction. The state revoked his teaching license in 2013 when Boldry voluntarily surrendered it in exchange for prosecutors dropping the criminal charges.
Boldry went on to work with teens as a basketball coach for Indiana Dawgz, a travel team in northwest Indiana.
While schools have to perform background checks when hiring, there's no standard procedure for non-school sports teams, churches, volunteer groups, and other organizations.
"It would surprise me very little," said Mike McCarty, a former detective and owner of Safe Hiring Solutions, a Danville company that runs background checks on school employees.
"Most volunteer organizations that work or serve with children, it's a policy issue, it's not a law issue," McCarty said. "There's no standard requirement and there's no standard for what a background check is."
McCarty said many groups make the mistake of relying on the state's sex offender registry before hiring.
"These registries can be terribly outdated, and they vary from state to state," he said. "It's very easy to be a convicted sex offender but not be required to register as a sex offender based on plea agreements or a reduction in sentence."
Some educators who lost their state licenses after they were convicted of crimes against children were not on the sex offender registry.
Bruce Ryan was convicted in 2011 of sexual misconduct with a minor after an inappropriate relationship with a student at Charles A. Tindley School, but he's not on the sex offender registry.
Former MSD of Wayne Township administrator John Maples was convicted in 2013 of disseminating matter harmful to minors.
Maples lost his educator license, but he's not on the sex offender registry.
Similarly, ex-IPS counselor Shana Taylor, accused of having sex with students, lost her state license, but is not on the sex offender registry after pleading guilty to three felony counts of dissemination of matter harmful to minors.
Since 2012, the Indiana Department of Education has revoked or suspended the licenses of 108 educators including teachers, counselors and administrators.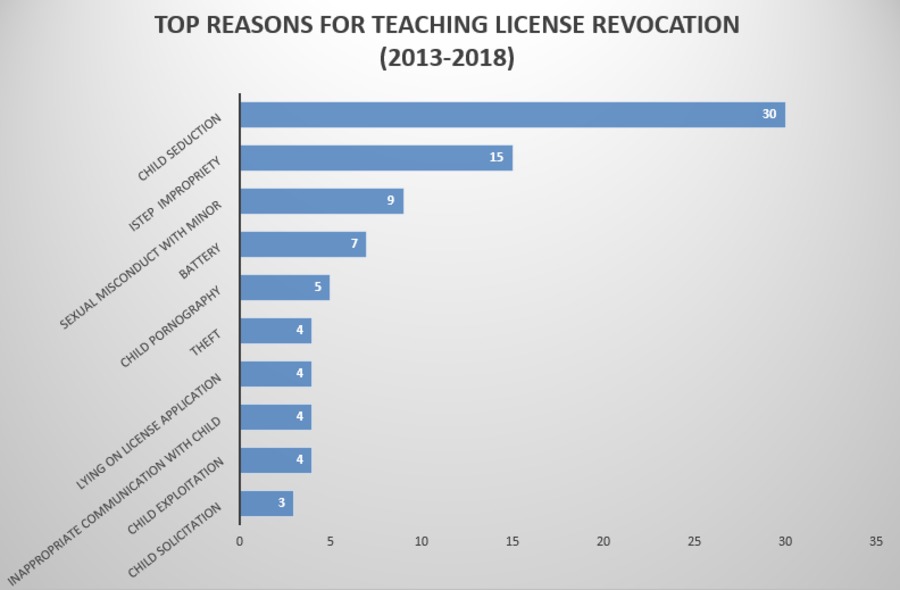 The top reason – child seduction.
ISTEP impropriety, sexual misconduct with a minor, battery, child pornography and child exploitations were among the other reasons for educators losing their licenses to work with children.
Under state law, the Indiana Department of Education automatically and permanently revokes licenses after certain offenses, such as child molesting, child solicitation, child exploitation, sexual misconduct with a minor and rape.
TIPS TO PROTECT YOUR CHILD

Educate your child about their bodies and boundaries
Never let your child be along with school employees
Understand the grooming process
Never let school employees touch your child
Field trips should have parent chaperones
Communicate with your child on a daily basis
Make visits to your child's classroom
But for other offenses, the Superintendent of Public Instruction can decide whether to take action against the educator, according to Risa Regnier, director of educator licensing for the Indiana Department of Education.
Both prosecutors and judges are now legally required to notify IDOE when an educator has been convicted of a crime.
"It probably isn't done as consistently as we would hope it would be, though it certainly has helped," Regnier said.
KENNEY: How do you make sure they're not teaching in Indiana again?

REGNIER: (The employee) would have to falsify records. If they apply for any type of licensure with the same social security number or date of birth. Those are all key pieces of data we use for matching.
Just because a teacher loses their license in another state, doesn't mean they're barred from getting a job in Indiana.
"We look at the circumstances of what was really behind the suspension or revocation, is this something that tracks with a suspension or revocation in Indiana," Regnier said.
For example, some states will suspend a teacher's license if the teacher fails to complete renewal requirements on time.
"We reach out to the licensing agency in the other state to get documentation," said Regnier.
Thanks to a new law that goes into effect July 1, the Indiana State Court Administration will send IDOE weekly updates on criminal convictions.
"That will give us very current information on teachers that have convictions we need to pursue," said Regnier. "We're going to be aware of more individuals that shouldn't be in the classroom."
McCarty with Safe Hiring Solutions says it's a good start to better protecting children in the classroom.
"I think the gap is closing," McCarty said. "It's a very transient society."
Safe Hiring Solutions is launching Arrest Alert, which will alert schools in real time when an employee has been arrested.
"The school could start an investigation," McCarty said.
As a result of a new law, Indiana schools now have to do criminal history checks before employment and again every five years. But most educators who commit crimes against children have no criminal history.
"It's a very difficult thing to predict," McCarty said. "We tend to throw criminal background checks at a problem, and it can't solve the problem alone.
Reporters spent several days traveling throughout central Indiana, knocking on teachers' doors who've lost their licenses as a result of misconduct with children.
Most of them still live in the area, and they're working at factories, coffee shops and pizza places.
No educator who lost his or her license spoke on camera, but off camera, many said they just want to move on with their lives.
However, the victims of the crimes often can't move on from what happened.
"There are consequences for those kinds of behaviors and criminal acts," McCarty said.
As for Todd Boldry, the Indiana Dawgz basketball team knew about his past.
Records show the basketball community wrote letters in support of Boldry in 2016 when he applied to get his teaching license back with the state.
However, the state denied Boldry's request.
According to letters submitted to IDOE, Boldry is now married to the then-17-year-old girl he impregnated when she was a student.
The Indiana Department of Education says while Indiana is making huge strides in keeping children safe from educator misconduct, they emphasize most cases come to light because of parents speaking up.
"Those are really a lot of the cases we discover," Regnier said. "We become aware of many of those misconduct situations because parents have noticed suspicious interactions."
The state also recently passed a law requiring reference checks on school employees and doing away with confidentiality agreements that could allow misconduct to travel from school to school.
The Indiana State Teachers Association provided a statement by ISTA President Teresa Meredith asked if they could provide a teacher to speak for this story.:
"Other than a student's family, almost no one is closer to kids than educators. Educating is an honor and a privilege and it comes with great responsibility.

ISTA has supported expanded background checks for school employees and other protections for our students. We also continue to provide members information on how to keep students and educators safe."