Is there something you wish had never been invented?
For a second-grader in Louisiana, it's their mother's cell phone.
The student's teacher, Jen Adams Beason, posted this comment on her Facebook page, along with the child's essay.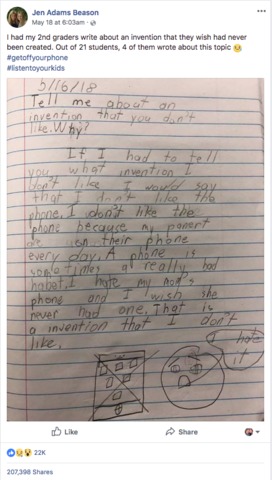 In that post, Beason revealed that four of her 21 students also said they wished cell phones had never been invented.
In the essay, the student wrote, "I would say that I don't like the phone," capping off the work with a drawing of a cell phone with an "x" through it and a sad face saying, "I hate it."
The image was posted on May 18 and has since been shared more than 207,000 times.
As you can imagine, it's generating a strong response online.
"Wow. Out of the mouths of babes! We are all guilty!" wrote one person. "Truth from a second grader! This is powerful," added another.
A2017 survey reported that half of parents found using technology disrupted time with their children three or more times a day.