It took a Minnesota lawyer to do it, but five decades of secrecy within the Catholic Diocese of Buffalo was pierced Thursday with the release of the names of 13 priests who have been publicly accused of sexual misconduct with minors.
"The Diocese of Buffalo has embraced secrecy, and that secrecy has bred shame and silence and that has hurt individuals," said Michael Reck of the Anderson Advocates law firm.
Reck, who was joined by former priest Patrick Wall of Minnesota, did what Buffalo bishops Head, Mansell, Kmiec and Malone all refused to do: publicly name 13 former priests in Western New York suspected of sexual misconduct with minors.
"We're talking about rape," said Wall. "We're talking about sodomy. We're talking about forced oral copulation - all kids of ugly things that those of us raised in the Catholic world don't want to talk about those crimes. But that's what our clerics have been doing. That's what, you know, brother priests have been doing."
Many of the names had been revealed through court filings over the years but had never had never been put in one place.
But even with the 13 names identified in this report, that leaves at least another 40 clerics who at one point have been accused of sexual misconduct, according to diocesan figures. A list of those priests' names and those secret files remain under lock and key at diocesan headquarters.
As public pressure mounts, Bishop Malone is out of town at a conference, but his spokesman said a decision on whether the diocese will release the names of accused priests is expected "very soon."
To which Reck replied, "The time for thinking about doing the right thing is done. It's now time to actually do the right thing."
Wall, a former Benedictine monk who spent years cleaning up abuse cases inside the church, says it would only help the victims.
"That would be a great service to survivors," he said. "Because that way, at least for the diocese to acknowledge that priest was an offender, that would be a tremendous help in their salvation and their own peace of mind."
If the diocese doesn't respond, Reck may sue as he did in the Diocese of Rockville Centre on Long Island, where he argued the secrecy created a "public nuisance" and jeopardized public safety
Of the Buffalo diocese, he said, "The diocese now is on the cusp of doing the right thing. And we would urge them to take that step, turn that corner and do the right thing."
---
Below, you will see the detailed report released by Jeff Anderson & Associates, containing the names and backgrounds of the accused priests, as well as a map showing the locations of accused predators in the Diocese of Buffalo.
</p><p>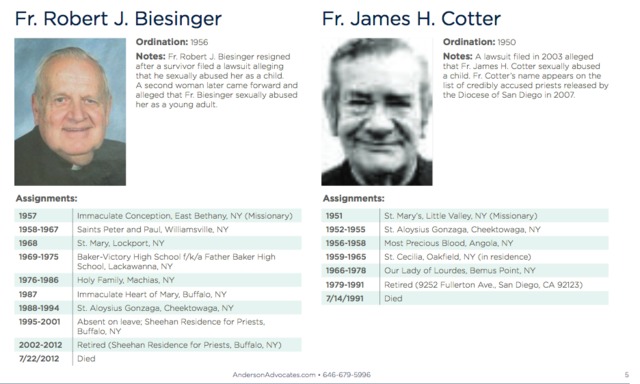 </p><p>
</p><p>
</p><p>
</p><p>
</p><p class="x_MsoNormal">Correction offered by Jeff Anderson & Associates: "The earlier assignment history for Father William F. White contained inaccuracies. Two priests with the same name worked in the Diocese of Buffalo. The Fr. William F. White referred to in the report did not work at Bishop Turner High School in Buffalo, New York."
</p><p>The law firm is encouraging sex abuse survivors to come forward safely and confidentially.
Earlier in March, Buffalo Bishop Richard Malone announced a voluntary Independent Reconciliations and Compensation Program. This program covers those who have made previous claims they were sexually abused as a child by priests working within the Diocese of Buffalo.
According to a Diocese spokesperson in regards to the above mentioned priests: "Any time we receive notice of a claim of abuse and there is a semblance of truth, we remove the priest from active ministry and report it to the appropriate district attorney in accordance with our agreement with the eight counties in our Diocese."
The Diocese says it is also still trying to decide whether to release the names of all Buffalo area priests accused of sex abuse.
This was all set in motion after Michael Whalen came forward in late February with allegations against Father Norbert Orsolits ((mentioned above)). Whalen says he was abused by the Buffalo Priest nearly four decades ago.
If you are a survivor of church sex abuse, and would like to come forward, the 7 Eyewitness News I-Team would like to meet with you. You can call our I-Team Tip Line at 716-840-7750, or send us an email at ITEAM@WKBW.com.
Additional I-Team Stories on this topic:
Take WKBW Everywhere, on all your devices. Download below!
Phone or Tablet: Apple, Android
Set-top Device: Roku, Apple TV, Amazon Fire TV
Amazon Alexa
Personalize your news, get the latest 7 First Alert Forecast, and watch 7 Eyewitness News video wherever, whenever.
Learn more here about what 7 Eyewitness News provides on all these devices.