Buffalo Catholic Diocese's new list of priests accused of sexual abuse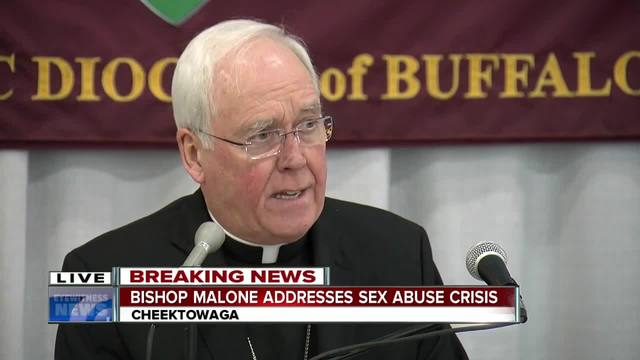 BUFFALO, N.Y. (WKBW) - The Catholic Diocese of Buffalo has released a new list of 36 priests accused of sexual abuse of a minor. This is in addition to the original list of 42 priests that the Diocese released earlier this year.
Some names on the list mirror those already collected by I-Team chief investigator Charlie Specht as part of his months-long investigation into abuse in the Catholic Diocese of Buffalo.
Diocesan Priests
Rev. Ron Becker (2009)
Seminarian from Trenton
Rev. Robert P. Conlin (1997)
Rev. Paul R. Coppola (2006)
Rev. Dennis Fronczak
Msgr. Gerald Leo Green (2012)
Rev. Louis Mako
Rev. Frances McKenna (1997)
Rev. Robert Moss (2018)
Rev. Michael Raimondo RIP Italy
Rev. Joseph Rappl
Rev. Joseph A. Schuster (2007)
Rev. Gerald Sheehan (2006)
Rev. Ronald Silverio
Rev. Howard Slack (1976)
Rev. Arthur Smith
Rev. Clatus E. Snyder (2001)
Msgr. William G. Stanton (2004)
Rev. Harry Richard Strassberger (1999)
Rev. Samuel Venne
Rev. Charles Werth (2017)

Religious Orders
Rev. Benedict Barszcz, SAC
Rev. James Burson, CJM
Rev. Peter Conroy, SJ
Rev. James Gould, SJ
Rev. Stanley Idziak, SAC
Rev. Paul Keeling, CRSP
Rev. Theodore Kocian, SAC
Rev. Michael Kolodziej, OFM Conv
Rev. Linus E. Kopczewski, OFM
Rev. Thomas R. Marshall, CSP
Rev. Rene Maynard, OFM
Rev. Loren Nys, SDS
Rev. Theodore Podson, SchP
Rev. Maurice Scheier, OFM
Rev. James Smyka, OFM Conv
Rev. Bernard Splawski, OFM
KEY LINKS IN THE BUFFALO DIOCESE SEX ABUSE SCANDAL:
Part 1 of the 7 Eyewitness News I-Team investigation revealed that Malone returned Fr. Art Smith to ministry despite allegations of inappropriate contact with a child. Malone returned the accused priests to ministry after a previous bishop suspended him, documents obtained by the 7 Eyewitness News I-Team show.
Part 2 revealed that Malone allowed Fr. Robert Yetter to remain pastor of St. Mary's in Swormville despite multiple sexual harassment allegations by young men.
Part 3 cited church records that showed more than 100 priests in the diocese were accused of sexual abuse or misconduct. Malone in March released a list of only 42 priests "who were removed from ministry, were retired, or left ministry after allegations of sexual abuse of a minor."
The investigative series sparked Buffalo civic leaders to call for Malone's resignation and Catholics have mounted weekly protests in front of the Diocese of Buffalo Chancery. Malone in August held a news conference and refused to resign as Buffalo bishop.
In September, the State Attorney General launched a statewide investigation into sexual abuse in the Catholic Church and last week, it was revealed the FBI has launched its own criminal investigation into the diocese.
In October, "60 Minutes" aired a national investigative story on Bishop Malone and the Diocese of Buffalo.
Have a news tip, question or comment?