Football is back!
Well… sort of.
For the first time, the Buffalo Bills will take to the field to take part in some practicing. And this weekend carries a large degree of interest because of the very title: rookie minicamp. It's the first time we'll see Josh Allen, Tremaine Edmunds, and all the other first-year players in action for the first time.
Rookie minicamp is always a time for the young players to get their feet wet in the pro ranks with their new coaches and teammates, all the while diving into their new playbooks for the first time. This is a time where mistakes can be made in a less risky environment because it's their first few days.
However, it's also an occasion that great performances can catch the eye of coaches heading into the upcoming Organized Team Activities (OTAs). What are some things that I'll be keeping on?
5 things to watch for in the 2018 edition of Bills rookie minicamp:
1) Will Josh Allen throw it over them mountains?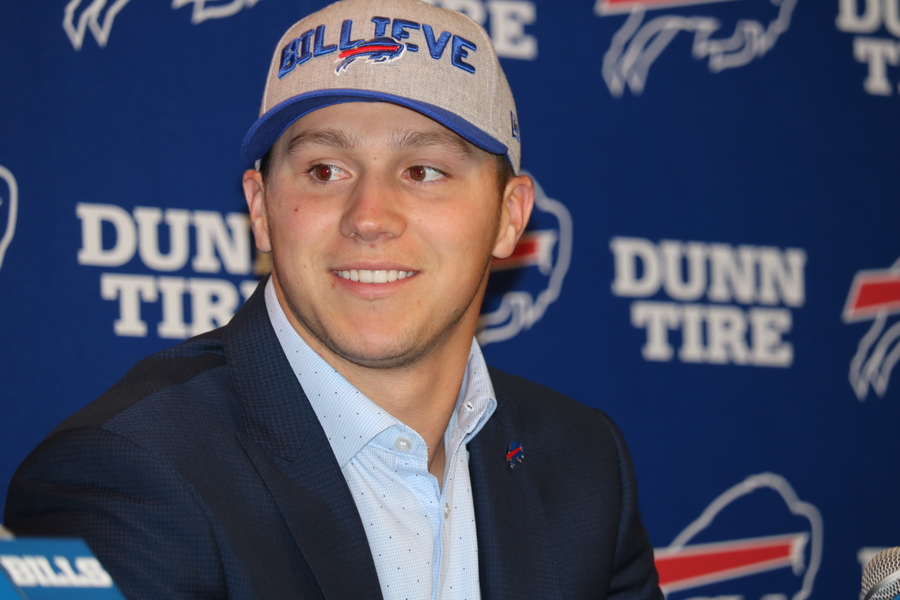 The title is purely in jest, but this will be the first chance the Bills get to see his arm in person as a member of their franchise — after spending the last several months thinking about how to get him on the team by way of a trade on draft day. We'll see him uncork a deep pass or two, but I'm more interested in the timing of his throws with some of his new receivers. Now, many of those players will not be the players he's throwing to when he actually gets his first chance to play in a regular season game, but the point remains.
This will really be the first time we've seen his footwork on a grand scale since the NFL Combine. I'm interested to see just how far he's come in that respect while working with quarterbacks coach Jordan Palmer, or if he continues to display some of the footwork that got him into trouble at Wyoming.
Regardless, this will be the best natural arm the Bills have ever seen on their practice field — and fans likely won't be able to get enough of seeing what he can do whilst bedecked in Bills gear.
2) Where will Tremaine Edmunds line up?
When the Bills moved up to draft Tremaine Edmunds, the presumption was that the explosive Virginia Tech player would line up at middle linebacker — taking over for the departed Preston Brown. However, Sean McDermott was non-committal to identifying a specific spot where Edmunds would play.
It's quite likely that Edmunds takes all the reps at middle linebacker during rookie minicamp, but I also believe there's at least a tiny chance that the Bills could see how he looks at strongside linebacker. Now, that's the position that belongs to Lorenzo Alexander at the moment, but he's not a long-term solution, and Edmunds may even be more of a natural fit for that spot than as an actual middle linebacker.
No matter if it's at middle or strong, Edmunds has a very strong likelihood to take 100-percent of the linebacker snaps this season alongside Matt Milano, as they are now the top two players they have at the position. And with defenses in nickel well over 50-percent of the time with only two linebackers on the field anyway, the initial slotting in the Bills' "base" defense becomes less important.
Even still, we'll start to at least get a vision of what the Bills saw when they moved up to take Edmunds.
3) Initial impressions of Taron Johnson at nickel
With a couple of different positions, this is a great opportunity for a few young players to get a leg up as they head to OTAs with the rest of the team starting next week. One of those is nickel cornerback, where fourth-round selection Taron Johnson can really put himself in a position of strength even before he's on the field at the same time with veteran Phillip Gaines.
Now, while he won't be able to show his tackling ability at any of the offseason workouts — which is a necessary component for the job, mind you — he can show his explosiveness to stick his foot in the ground and react to break up a play in those short areas of the field. Without the Bills seeing Gaines on the field yet in any capacity, this is a nice little audition for Johnson for the job in just his first few days with the team.
It's not a ridiculous notion by any means, either, because I recall the year when Nickell Robey-Coleman came out and played incredibly well in rookie minicamp, got more reps during the OTAs as an undrafted free agent, and he wound up winning the nickel job.
Johnson has an opportunity ahead of him this weekend.
4) The battle at slot receiver begins
The same as the nickel corner, the Bills search for a slot receiver will start this weekend. Sixth-round pick Ray-Ray McCloud and seventh-round pick Austin Proehl will be the main combatants at rookie minicamp.
The favorite for the job, veteran Jeremy Kerley, will join the competition next week for the start of OTAs. However, with McCloud and Proehl — as long as they both line up at the slot as their skill-sets would indicate — it's an opportunity for one of them to get ahead of the other on the depth chart heading into OTAs.
Consistency in hands and route running will be the key here to see which of these two has the better minicamp to be the potential second man in line to Kerley starting next week.
5) Can Keith Ford make his presence felt?
As the offseason went on for the Buffalo Bills, the average age of the running back position just kept getting older and older. First, LeSean McCoy is due to turn 30 in July. The Bills signed the 30-year-old Chris Ivory in free agency, and then re-signed both Taiwan Jones (29) and Travaris Cadet (29) — which likely make up the top four of the depth chart at the moment.
There is a crying need for an infusion of youth at the running back spot. The Bills likely would have done so in the draft had it not been for the opportunity to move up and select both Allen and Edmunds, but as of now do not have a legitimate young player to develop.
That could be where undrafted free agent Keith Ford of Texas A&M comes into play. He's a big and strong runner that looks to initiate contact to grind out extra yardage, which is precisely what Chris Ivory is for the Bills. Ford has a chance to show that he's got some wiggle and burst in his game this weekend, especially without other young competition at running back.
Ford could be one of those under-the-radar names that sneak on to the 53-man roster by the end of it all, and that campaign could start this weekend.
Twitter: @JoeBuscaglia