GALLERY: March 2 snow across WNY
Have a great photo? Upload it to the WKBW Facebook page!
Tress fell on power lines in Silver Creek, NY. (Courtesy: Sandy Marzec)
Franklinville, NY. (Courtesy: Curtis Lovell)
Time to unbury in Arcade NY. (Courtesy: Rose Sam)
Java Center (Courtesy: Kathy Schultz Plowe)
Frankie playing out in the Boston Hills .. she's loving it (Courtesy: Elayne Claus)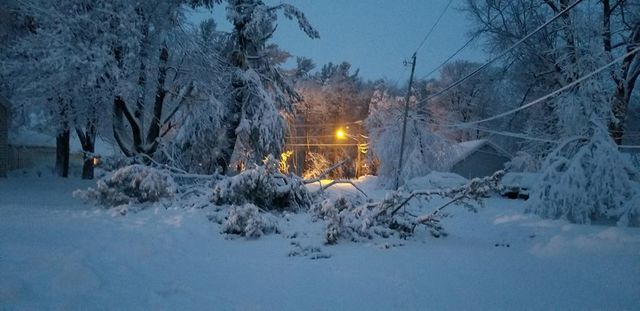 Derby, NY (Courtesy: Elizabeth Ann Jessica)
No hanging laundry in North Collins (Courtesy: Jeanne Carr)
Hamburg, NY. (Courtesy: Jacque Harris-Heferle)
Courtesy: Tiffiny Jernigan
Dunkirk near the lake lots tree damage wires stressed to max (Courtesy: @bewitchepoo1)
Suger Grove, PA (Courtesy: Lisa DeVore Elder)
West Seneca, NY (Courtesy: Kristie Dubaj Kirchmeyer)
Colden, NY (Courtesy: Sue Romanowski Roman)
Courtesy: Maria C Johnson
Courtesy: Fidel Lebron Jr.
Backyard in South Buffalo (Courtesy: Jean Lawson)
Lancaster (Courtesy: Cheryl Rogowski)
Cheryl in Wyoming County claims there's a car in this photo. We're not so sure... :D (Courtesy: Cheryl Klien)
A ruler no longer works for the snowfall in Sardinia overnight. This Buffalo weather! (Courtesy: Jamie Emmick)
Boston State Rd in Creekside was closed due to wires down. Important reminder: Treat all downed lines as if they are live.
Jackknifed tractor trailer on 90 at Lakawanna toll booths, northbound.
A split tree has fallen onto the front of this house in Creekside. I can hear other trees creaking and cracking under the weight of this heavy wet snow.