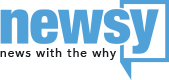 wkbw.com
National News Partner
Suspect In Custody In Florida School Shooting, 'Numerous' People Dead
The Broward County Sheriff's Office said a suspect is now in custody in a Florida high school shooting that left "numerous" people dead, according to the school district superintendent.
The Sheriff's Office says there are at least 14 victims. Media outlets report that number could be at least 20. The sheriff said the suspect is not a current student at the school.
Deputies responded to reports of a shooting shortly before 3 p.m. local time at Marjory Stoneman Douglas High School in Parkland.
The school was placed on lockdown shortly before law enforcement began clearing students from the building.
President Donald Trump tweeted: "My prayers and condolences to the families of the victims of the terrible Florida shooting. No child, teacher or anyone else should ever feel unsafe in an American school."
This is a developing story. Stick with Newsy for the latest updates.
Additional reporting from Newsy affiliate CNN.
---
Trending stories at Newsy.com