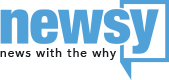 wkbw.com
National News Partner
Pakistan Ousts Prime Minister Amid Panama Papers Allegations
The Pakistani Supreme Court removed the country's prime minister from office over corruption allegations revealed in last year's Panama Papers.
The papers allege Prime Minister Nawaz Sharif and his family weren't disclosing all their finances with the Pakistani government.
Sharif was leading Pakistan in his third term as prime minister. His first term was from 1990-93.
According to the Panama Papers, Sharif's children bought expensive real estate in London using offshore companies. But the children were all minors at the time, so they wouldn't have been able to buy the properties without an adult, who some suspect is Sharif.
Sharif recommended his younger brother Shehbaz Sharif be his successor. But Nawaz Sharif's party, the Pakistan Muslim League-Nawaz, still needs to appoint an interim prime minister until the next election.
SEE MORE: US Refuses $50 Million In Reimbursements To Pakistan
In that election, the biggest competition will likely come from Imran Khan, leader of the opposition party in Pakistan.
Sharif already stepped down. But his party says it's considering challenging the court's ruling.
---
Trending stories at Newsy.com