VIDEO: Explosion after semi hit by train
Semi driver, train conductor burned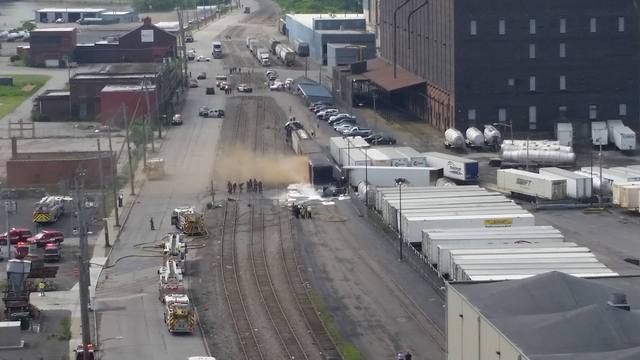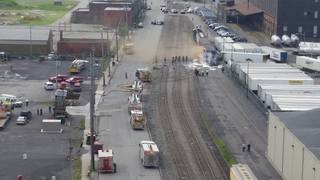 BUFFALO, N.Y. (WKBW) - Explosions rocked nearby homes and buildings after a tractor trailer was hit by a train shortly before 10 a.m. on Ganson Street in Buffalo, near Riverworks.
Surveillance video obtained by 7 Eyewitness News shows the train backing into the tractor trailer and the subsequent explosion. You can watch the raw version as the second video with this story. The third video with this story was sent to 7 Eyewitness News by Rick Lenard. It shows flames and dark smoke shooting into the air.
Beth shared a picture of the scene with 7 Eyewitness News taken from across the river. She and a woman who lives nearby reported hearing and feeling explosions after the accident.
Larry Cohen shared pictures of the cab of the tractor trailer engulfed in flames, while Dennis Schollard shared pictures of firefighters spraying down the train and semi with foam.
Officials say the CSX train only had three cars and was backing up when it struck the tractor trailer. The conductor was on the rear of the train. The truck was carrying flour.
The driver of the tractor trailer and train conductor were both burned. The conductor suffered facial burns and the driver suffered upper body burns that covered 18 percent of his body. Both were taken to ECMC.
A firefighter was also taken to ECMC for smoke inhalation.
Buffalo Fire officials say one of the tractor trailer's natural gas cells ruptured, exploding. Two other cylinders on the truck did not explode.
The cause of the accident remains under investigation.
Stay in Touch Anywhere, Anytime with News, Weather and Video -- Download the WKBW app:
Or Sign up for our Daily Newsletter -- Delivered to Your E-mail: